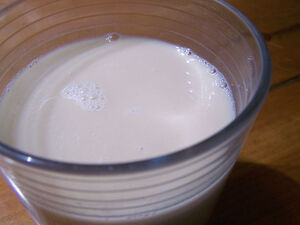 Prep Time:
Cook Time:
Yields:
Description
Edit
or the at-home non-dairy milk-maker, there are a plethora of milks to be made.
What's specifically great about oat milk: creaminess, nuetral taste (which makes it fantastic for cooking), and actual fiber content because the oats are not strained out. Add in the miso, which supplies B-12 and the digestive benefits of fermentation, and you've got some damn fine non-dairy milk.
But shake before serving! It keeps well, but separates quickly and looks kind of weird-- Give it a shake and it's creamy and perfect all over again.
Ingredients
Edit
Directions
Edit
Combine all ingredients in a container with a lid, being sure that miso is dissolved.
Cover tightly and refrigerate overnight.
In the morning, blend until smooth in a blender or food processor.
Keeps for one week.
Always shake before serving.