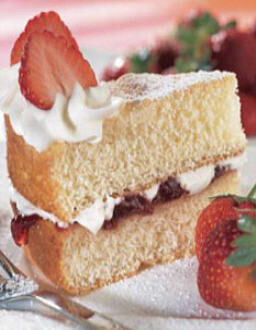 Prep Time: 10 minutes
Cook Time: 25 minutes
Yields: Two 2 inch high 9 inch diameter cakes
Description
[
]
A very light cake with a fine texture.
Ingredients
[
]
4 eggs
1½ cups castor sugar
1 cup water
2 Tbsp oil or butter (optional)
2 cups cake flour
1 tsp flavouring (vanilla or other as desired)
4 tsp Baking Powder
Pinch of salt
Directions
[
]
Preheat oven 400F (200C)
Grease and line bottom of two 9 inch deep cake pans with paper.
Heat water & oil to simmer.
Beat eggs & sugar till very light and creamy (best to use an electric mixer)
Add salt & vanilla, and mix in.
Sift flour & add to eggs beat to incorporate..
Sprinkle baking powder on top of mix, pour hot water over and fold in
Pour into cake pans and bake on middle shelf of oven for 25 minutes. (Until a skewer coimes out clean)
NOTE:
Do not open oven in first 20 minutes of baking
To make a chocolate sponge, replace 4 Tbsp of flour with cocoa powder.